Now that you've got your tickets for Panda Game, you're probably starting to think ahead to game day itself. Whether it's your first Panda or your fifth we've put together an FAQ of everything you ever wanted to know about the 51st annual Panda Game.
When/where is Panda Game?
The Panda Game will take place on Saturday, October 5, at TD Place, with kickoff at 12:00 P.M.
Why is it called Panda Game?
While you're correct that neither school's mascots are currently a panda, the name of the game comes from the game's trophy, Pedro the Panda. Pedro was donated by a local jeweler at the request of an U Ottawa student who was looking to drum up a friendly rivalry between the two schools and was meant to serve as the U Ottawa mascot – they hadn't yet adopted the Gee-Gee. Though on his third version, Pedro the Panda remains the trophy for the Panda Game and lives on the winning school's campus for the year following their win.
How can I get there?
Your Panda Game ticket provides free transit on all OC Transpo routes starting at 3 hours before, and three hours after the game. If you're travelling from Carleton, transportation will be provided on the "Panda Express", an enhanced OC Transpo route to TD Place. Overly intoxicated students will also not be permitted to use the shuttle transportation to or from the game.
When should I get there?
Considering that Carleton scored a touchdown in the first thirty seconds of the game last year, you're going to want to make sure you're in your seat by the time the game starts. On top of that, one lucky student who passes through the gates before 11:30 A.M. will win free tuition (up to $7,000), so plan to get to TD Place before then!
What's the entrance policy on bags/re-entering/etc?
The entry policies for this year's game include, but are not limited to:
No bags can be brought into the stadium – there will be a bag check at the Lindt Chocolate Shop (directly across from the stadium) if you come with a bag.
No re-entry to the stadium once you've left.
Event security will have zero tolerance for students who are visibly intoxicated and/or attempting to bring alcohol into the facility. If you're caught, you will have your ticket revoked with no opportunity for refunds or re-entry.
Increased security around entrances, including metal detectors.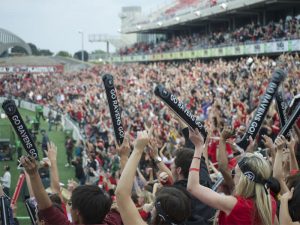 Is there food or drink for sale at TD Place?
Yes! TD Place has concessions that sells both food and drink. TD Place will also be selling $2 hot dogs throughout the game (while supplies lasts).
What are your top 3 tips for a fun and safe Panda?
Eat breakfast or have brunch. The game starts early in the afternoon and the last thing you want is to be hungry while cheering for Carleton! Eating also helps reduce the chance of alcohol poisoning, so make sure to eat well if you plan on drinking.
Remember to be a good neighbour – not everyone around you is celebrating Panda, and you don't want to have to shut down whatever fun activities you're doing because you've upset the people around you.
Stay with friends – everything is better together while also being much safer!
Well folks, that's all for now – C U there to cheer on our Ravens at Panda!
Recent Quote the Raven Posts
Read the latest from our student Bloggers
We're here to help you succeed online!
Use our services search to explore our many support services.