Money makes the world go round – I'm certain this sentiment echoes with many Carleton students, as it does with me. Between navigating the challenges of academics, employment, extracurriculars, and personal relationships, creating and sticking to a budget can be difficult, for many reasons. As we near the end of Financial Literacy Month, here are some tried-and-true ways in which you can save as you spend, and live big on a not-so-big budget.
Student promotions: Student discounts are everywhere, and if you utilize them effectively, you might never have to pay full price for any clothing, groceries, or food, ever again – until you graduate, that is. The SPC card is a great way to save a minimum of 10% at locations such as Forever 21, American Eagle, Booster Juice, David's Tea, and more. Stores like Topshop, Roots, and H&M offer standalone student discounts year-round, and grocery stores and food retailers like Loblaws, Metro, The Independent, and Bulk Barn, offer student discounts for all your dietary needs. Entertainment wise, Spotify recently launched a student-specific version of their Premium streaming service, making it cheaper for students at $4.99 a month.
Apps: I can definitively say that technology has greatly enhanced my ability to budget in my everyday life. Flipp is an app that collects coupons from stores across Ottawa, and updates them weekly, so that you never miss out on a great deal. Additionally, I've used my fair share of budgeting apps but none have come close to the detailed and personalized spreadsheet I have crafted using Microsoft Excel. This spreadsheet allows me to record every dollar spent and saved, so that I can objectively track my money each month, and understand how well I'm doing financially (for example, transportation costs), and where I could improve (for example, my coffee and bagel budget). I wholeheartedly app-reciate – pun fully intended – the value that these resources have added to my financial life.
Carleton perks: Carleton has a lot of great ways to save, and it's all about finding them! We all need to eat, and Dining Services has lots of great ways to save money when eating on campus. If you find yourself eating frequently on campus, a Meal Plan might work in your favour; additionally, Meal Plans are available for Carleton students who live both on- and off- campus. If you're looking for cheap textbooks on the other hand, there's no better place than Haven Books, the student-run bookstore that's a mere 10-minute walk from campus and sells lightly used textbooks at a bargain. Finally, I cannot forget the ultimate Carleton perk that comes in the form of the recently launched CU Spirit Day! If you own any Carleton gear, including the Spirit Day shirt, you can receive 10% off different dining locations on campus, as well as 20% off additional Ravens gear, and additional freebies every Friday. The $10 price tag is well worth the money you'll save all year long.
We're here to help you succeed online!
Use our services search to explore our many support services.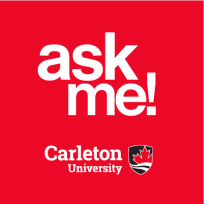 Ask Me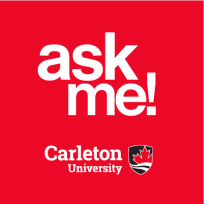 AskMe
What can we help you find?