By Finn Hogue
Carleton University is quickly becoming home to a number of podcasts across campus including the Carleton Pathway Podcast, The Talking Raven, The Department Podcast and the award-winning Minding the Brain. Each podcast is unique in its own way, run by talented Carleton staff and faculty that offer different perspectives on a wide range of interesting topics.
Carleton Pathway Podcast
The Carleton Pathway Podcast is a new podcast, launched this summer for an audience of current and future students which is run by Jeremy Whalen, communications officer at Carleton University. The podcast is based on the website Pathways to Graduation and was originally planned as a video series, but due to the pandemic, shifted to a podcast. The goal has always been to show students a variety of ways in which they can reach their goals while building up skills across a variety of pillars.
"We want to show students that there is no right way to get through university," Whalen said.
Each Pathway episode features different voices from professors, student service professionals, coaches and current students, each offering different perspectives on navigating campus and university. The podcast is able to make connections with their guests because of Whalen's nearly 15 years of experience on campus. This helps him understand the topics that people are discussing and to ask questions that help the guests reflect and provide different, in-depth answers.
Whalen says that they are here for the Carleton community and are always looking for new ideas, guests and people to sit down and chat with. He encourages students to let him know if there is someone they would like to hear from or see featured on the podcast.
The podcast produces almost weekly episodes and you can tune in on the Current Students website.
The Talking Raven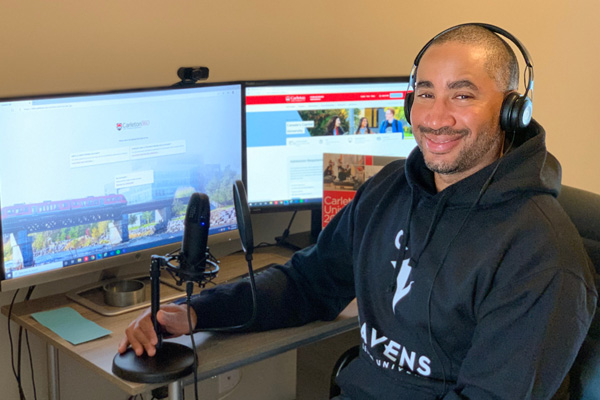 The Talking Raven was created by Stenley Philippe, recruitment officer and page liaison in the Undergraduate Recruitment Office at Carleton University. The first episode was released in September 2020. The podcast showcases what makes Carleton unique and helps future students navigate their post-secondary journeys. While there are a number of initiatives and events organized by the Undergraduate Recruitment Office for prospective students, such as online presentations and open houses, Philippe wanted to provide a new platform to reach this audience.
Each episode of The Talking Raven features a current student who offers an insider's perspective on the Carleton community, which can help future students decide if Carleton is a good fit for them.
"When you are applying to university, there are many factors to consider including your academic program and the campus community," Philippe said.
Philippe believes that through his 20 years connected to Carleton, first as a student and then as an employee, that he has a good understanding of what makes Carleton unique and why so many students choose to study here.
"It has been wonderful to speak to so many members of the Carleton community and to showcase the amazing opportunities available to our undergraduate students" Philippe said.
Tune in to the next podcast episode on the Undergraduate Admissions site.
The Department Podcast
The Department Podcast was started in January 2020 by Phillip Primeau and William Flynn, both professors at Carleton University. When the podcast was originally started in January, Primeau and Flynn both intended on having an episode go out every month. Unfortunately, COVID-19 changed these plans and caused them to take a break in April. However, they have since restarted the podcast as of September.
Both Flynn and Primeau have had strong connections to Carleton and its community for a few years now. Primeau first started his Master's degree in sociology in 2011 before going on to complete his PhD at Carleton in August 2020. Now Primeau teaches in the Department of Sociology and Anthropology. Flynn first started teaching introductory courses in sociology in 2014 before starting a full-time instructor position in 2016.
When deciding to start their podcast, both Primeau and Flynn thought about who they would like for their audience and decided that they wanted to connect with current students to provide a sense of community and with future students to help them decide on whether or not they should choose to Carleton for their undergraduate and graduate program.
In order to do this, Primeau and Flynn explore the work of Carleton's educators, support staff and students do in their podcast. They both agree that they "take their listeners inside higher education" meaning their podcast is about lifelong learning. To do so, each episode features a different set of voices that are instrumental in their own unique ways to the mission of the department of Sociology and Anthropology, and to teaching and learning at Carleton.
"We talk with folks about their research, recently published books or graduate dissertations, about innovative ways that they are teaching courses, about student life and their experiences at Carleton, etcetera," Primeau said.
Primeau believes that doing this podcast, getting to know who his colleagues and students are, and in a format that is more than just a list of accomplishments, has been rewarding to him. He said he believes he can translate these experiences to the students that he teaches and mentors.
"In a way, The Department Podcast has already begun to do what we ultimately wanted it to do: connect students and faculty together, and open avenues for new exciting projects to take form. I think this is the potential for audio storytelling in academia" Primeau said.
Primeau and Flynn both credit their podcast to the continued financial and institutional support of the department and faculty, as well as the support of the department's past and present chairs – Aaron Doyle and Blair Rutherford.
Interested in listening to their podcast? You can find it on The Department Podcast website.
Minding the Brain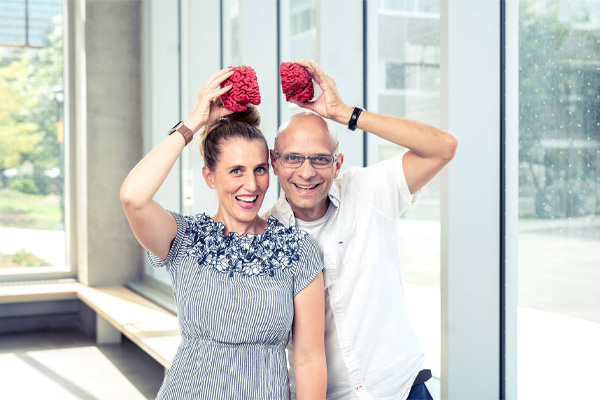 The award-winning Minding the Brain podcast was started in January 2018 by Dr. Jim Davies and Dr. Kim Hellemans, both highly respected professors at Carleton University. The podcast focuses on topics such as trauma, pet therapy and morning people versus night people, gender and the brain, and attention deficit hyperactivity disorder (ADHD).
Davies is an award-winning American/Canadian cognitive scientist, playwright, artist, and author, and is currently a professor in the Institute of Cognitive Science and the School of Computer Science at Carleton University. Hellemans is a teaching professor and current chair of the department of Neuroscience at Carleton University. She has received several prestigious teaching awards that recognize her passion and dedication to university teaching.
The Minding the Brain podcast was created after Davies had an idea for a podcast and mentioned it in a casual conversation over lunch with Hellemans. They both decided this was a project that they would like to partner up on and so the podcast was born.
"This never would have happened if we weren't friends and weren't having lunch," Davies said.
The podcast takes a different approach to the other Carleton podcasts, as the core audience is not just students, but the community in general. Both Hellemans and Davies agree that their intended audience is anyone who is interested in science.
Since the launch of the podcast, the two friends have learned how to best use this platform for an educational conversation that is engaging and resonates with a wide audience.
Hellemans and Davies believe that their podcast is a great platform to "showcase the incredible talent that is happening on campus", and consistently have guests on their podcast that highlights this talent.
The podcast has evolved since it was first started. Hellemans and Davies have learned how to talk about a topic without talking over each other and to "play audience surrogate" by making sure that their audience understands the jargon that they are using.
Hellemans and Davies have also recently won an award for their podcast: the Science Writers and Communicators of Canada 2019 People's Choice Award for Favourite Canadian Science Site.
If you are interested in science and applying it to problems that you experience in your daily life, listen in on the Minding the Brain website.
While each podcast is different and unique in their own ways, they all agree on three things: that they should connect to students, showcase Carleton's award-winning faculty, outstanding students, and staff, and highlight how important our sense of community truly is.
We are constantly finding other podcasts, such as History Slam produced by Sean Graham in the department of History at Carleton University. Each podcast contributes greatly to our students as well as the communities that surround us.
Friday, November 13, 2020 in Academic, Campus Life, Faculty, Featured Story, News, online, Pathway Podcast
Share: Twitter, Facebook
We're here to help you succeed online!
Use our services search to explore our many support services.