Dear Students,
As we begin the new term, we have launched a new centralized COVID-19 website for faculty, staff and students. The website groups all the documents and information that pertain to how Carleton University is continuing to navigate the ongoing public health crisis.
Over the summer, we also updated a number of policies and processes in preparation for the fall term. The health and safety of all members of the Carleton community is the university's top priority. We all have to do our part to help stop the spread of COVID-19. Staying home, maintaining physical distancing and practicing good hand hygiene remain the primary approaches to minimize the risk of virus transmission.  
We also encourage all students to read the message from Dr. Vera Etches, Ottawa's Medical Officer of Health, to all new and returning post-secondary students.
Social Gatherings
We recognize that part of the university experience is to gather with your friends and other students. However, we all have a responsibility to stop the spread of COVID-19 and protect our loved ones. We encourage you to gather virtually with friends and take part in a variety of virtual programming. If you are visiting with friends, be Social Wise by keeping groups small, wearing a mask, maintaining physical distancing of two metres, isolating yourself when you are sick and exercising proper hand hygiene. Ottawa Bylaw and Regulatory Services has a zero tolerance on gathering limits and are actively issuing fines for non-compliance.
Accessing Campus
Students living off-campus are strongly advised not to come to campus unless it is essential, or you have made the appropriate arrangements to access limited facilities. Before returning to campus, students must complete the COVID-19: Infection Prevention and Control Training on cuLearn. If you are prompted for an enrolment key, enter "stay safe". Once on campus, wear a mask and please respect and follow all posted signage and use approved building entrances and exits.
Building access is restricted to authorized personnel only, with the exception of the buildings and spaces that are designated as publicly accessible. Please visit the Building Updates webpage for a full list of publicly accessible buildings and spaces, hours of operation and access protocols.
MacOdrum Library: Level 2 (the main floor) of the library is publicly accessible to a limited number of Carleton students and faculty. Before you arrive, please read about visiting the building.
University Centre: The Unicentre is publicly accessible for specific services only such as the Campus Card Office and the Bookstore. Please note that capacity in the Unicentre is limited and you may have to wait until being permitted to enter.
Carleton Athletics: The athletics facilities are publicly accessible, however, the Fitness Centre, CUFit group fitness and pool swims require advanced booking.
Research: Students who require access to labs to continue their research must follow the Principles and Procedures for On-campus Research and request access through the appropriate protocol.
Tunnels: Access to the tunnels has been restricted to only authorized individuals and those with approval to use the tunnels for accessibility purposes.
Mask Policy
Carleton has updated its Mask Policy to comply with the Mandatory Mask bylaw adopted by the City of Ottawa and the recommendations of public health officials. Masks are required in all publicly accessible spaces within buildings. Masks are also required in non-publicly accessible workplaces where a two-metre physical distance cannot be consistently maintained, or in common or shared spaces.
COVID Reporting and Feeling Unwell
If you are feeling unwell or have been in contact with someone who has tested positive for COVID-19, you are required to stay at home. If you are on campus and are feeling unwell, please leave campus immediately. Students who are employees at Carleton should inform their manager/supervisor electronically. Students who have been on campus and are experiencing symptoms potentially linked to COVID-19 are asked to self-report.
Students may also want to download COVID Alert: Canada's free exposure notification app.
Supporting Your Mental Health and Well-Being
Whether you call Ottawa home, are living in residence or are currently living across Canada or even around the world, the Mental Health and Well-Being website has been updated to provide you with a directory of support services and resources to help you prioritize your mental health and find the help you need.
Planning for the Winter 2021 Term
Following a discussion at a recent meeting of Senate and the final recommendation of the Carleton University Scenario Planning (CUSP) working group, the Winter 2021 term will proceed online, with some leeway for selected optional instruction on campus (e.g. specific labs, capstone projects, recitals) if circumstances allow.
For those courses that offer optional instruction on campus, online options will be offered for students who cannot or choose not to come to campus and course instructors will be advised to prepare to pivot online at short notice if public health guidelines change.
The Carleton community is committed to continuing to support you throughout these challenging times and we wish you all the best for the upcoming year.
Sincerely,
Suzanne Blanchard
Vice-President (Students and Enrolment)
Wednesday, September 9, 2020 in Academic, Announcements, Campus Life, Coronavirus, CU Parents, Employability, Faculty, News, online, Wellness
Share: Twitter, Facebook
We're here to help you succeed online!
Use our services search to explore our many support services.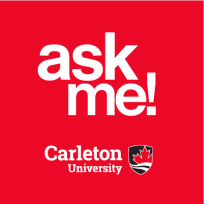 Ask Me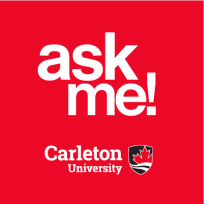 AskMe
What can we help you find?